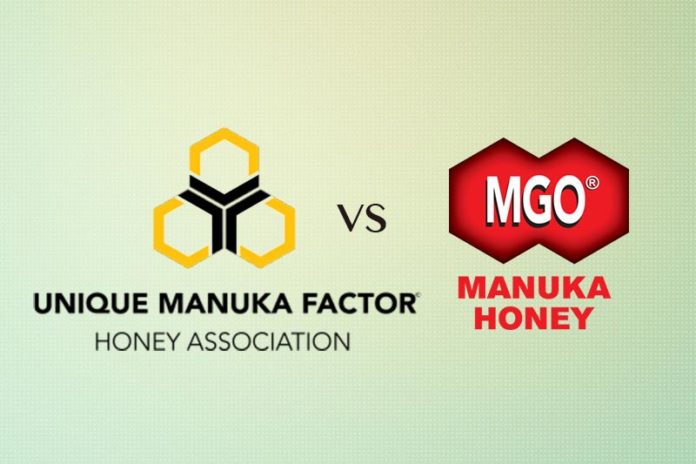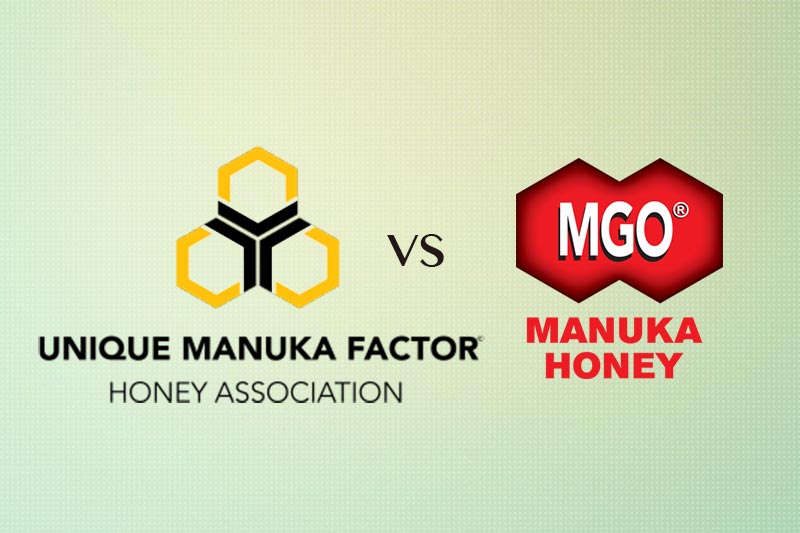 UMF
UMF stands for Unique Manuka Factor. According to Unique Manuka Factor Honey Association that manages the UMF trademark, the quality of manuka can be determined by the presence of unique signature compounds such as Leptosperin, DHA and Methylglyoxal. The more the unique signature compounds, the better is the purity and quality of the manuka honey, and the higher will be the UMF rating of the manuka honey.
MGO
The MGO grading system is managed by Manuka Health New Zealand Limited. It measures specifically the amount of Methylglyoxal (MGO) compound in manuka honey. The concept is similar to UMF grading. The higher the amount of Methylglyoxal in the manuka, the better is the purity and quality of the manuka.
UMF and MGO ratings compared
The following table is a guide for how to compare between UMF and MGO ratings. Please note that some brands of manuka honey are rated MG instead of MGO, and both are the same term referencing to the active ingredient called Methylglyoxal.
UMF RATING
MINIMUM MGO*
METHYLGLYOXAL
UMF 5+
MGO 83
UMF 6+
MGO 113
UMF 7+
MGO 146
UMF 8+
MGO 182
UMF 9+
MGO 222
UMF 10+
MGO 263
UMF 11+
MGO 308
UMF 12+
MGO 356
UMF 13+
MGO 406
UMF 14+
MGO 459
UMF 15+
MGO 514
UMF 16+
MGO 572
UMF 17+
MGO 633
UMF 18+
MGO 696
UMF 19+
MGO 761
UMF 20+
MGO 829
UMF 21+
MGO 899
UMF 22+
MGO 971
UMF 24+
MGO 1122
UMF 25+
MGO 1200
UMF 26+
MGO 1282
* MGO is measured as mg/kg (ppm)
We're listening.
Have something to say about this article? Leave us a reply below.